Dunedin is not always the first place visitors to New Zealand think about when planning their trip but those who pass on by without a visit are missing out. Big time. Dunedin is absolutely jam-packed with amazing things to do from the stunning wildlife, to the fantastic museums to the food and drink to the world's steepest street. There is so much going on in Dunedin that those who do venture down to the deep south can sometimes be overwhelmed with options of things to do. That's why we enlisted the help of our staff at the Wains Hotel in the heart of Dunedin to give us their top suggestions for things to do in Dunedin.
Here is our list of the top 10 things to do on a visit to Dunedin:
1.      Olveston Historic Home
This one came up time and time again when we asked our team for their tips. Olveston was built for a Dunedin businessman, collector and philanthropist and was designed by renowned English architect Sir Ernest George. It was originally built as a family home and furnished with fine art, furniture and artefacts. In 1967, Olveston opened as a historic house museum and has been attracting visitors ever since. There are six hour long tours every day and we definitely recommend giving it a visit. Find our more: http://www.olveston.co.nz/
2.      Tunnel Beach
Dunedin is not short on amazing beaches but Tunnel Beach is something a bit different. Situated 7.5kms southwest of the city and just south of another popular beach, St Clair, Tunnel Beach is a spectacular beach surrounded by sandstone cliffs that have been carved out by the sea, forming a natural 'tunnel'. There are plenty of arches and caves to explore and the rock pooling is great fun for the whole family.
3.      Speights Brewery
A list of things to do in Dunedin would not be complete without a visit to the iconic Speights Brewery. Speights is one of New Zealand's most popular beers but especially so down in the South Island where Speights Brew pubs can be found in most cities. At the brewery, you can take the tour and find out more about the brewing process for their range of beers before completing the tour with a sampling session. Winner. Find our more: http://www.speights.co.nz/
4.      Toitu Otago Settlers Museum
Dunedin is rich in museums and the Toitu Otago Settlers Museum is one of the most popular. The museum has a collection of over 100,000 objects and they highlight the character, culture, technology, art, fashion and transport of the Otago region from before the time European settlers arrived to the present. This is a great way to find out more about the region and discover the rich history of the Otago region. Find out more: http://www.toituosm.com/
5.      Larnach Castle
Not only is Larnach Castle one of Dunedin's most popular visitor attractions, it's one of New Zealand's most popular too. Lovingly restored by the Barker Family, Larnach Castle is at the heart of Dunedin's tourist trail and is a great place to spend a few hours. Whether it's a tour of the castle or a wander around the award-winning gardens there is something for everyone to explore. The Ballroom Café is always a popular spot to grab a coffee and cake or even afternoon tea so make a day out of it on your next visit. Find out more:  http://www.larnachcastle.co.nz/
6.      Cadbury World Tour
If you are a chocolate lover then this is a must on your Dunedin list. Cadbury is one of the most loved chocolate brands around the world and a chance to tour the factory is one not to be passed up. You can take the full Cadbury World Experience – a 60 minute tour that takes you through the history of the Cadbury factory as well as showing you how chocolate bars are made. There's also a shorter Centre Ticket which is a self guided tour where you will learn more about the history of chocolate as well as being able to check out some of their old-school TV adverts. Find out more: http://cadbury.co.nz/cadbury-world/cadbury-world-dunedin-tours/
7.      Dunedin Railway Station
The railway station in Dunedin is a truly magnificent building. During the city's most prosperous years, the railway station was the country's busiest, handling up to 100 trains each and every day. Construction began in 1903 and the station was officially opened in 1906. Dunedin's railway station was designed in the fashionable, desirable and highly expensive Edwardian Baroque style. Architect George Troup paid a lot of attention to detail not just on the outside but also in the foyer and booking hall which both feature elaborate ornamentation. Definitely worth a visit – if you are down there on a Saturday morning there is a great farmers market in Anzac Square right out the front of the station.
8.      Taieri Gorge Railway
Sticking with the railway theme if you are a big fan of scenic railways, this is one of the best in New Zealand. The Taieri Gorge Railway departs from Dunedin Railway Station and travels through the southern parts of the city before taking the Taieri branch at Wingatui Junction. From here it climbs into the Taieri Gorge, travelling through ten tunnels and over countless bridges and viaducts. You will marvel not only at the stunning scenery but the amazing engineering that allows the railway to blend in with the natural environment. The trip is a four hour round trip and is a great way to spend a morning or afternoon. Find out more: http://www.dunedinrailways.co.nz/
9.      Dunedin Botanic Gardens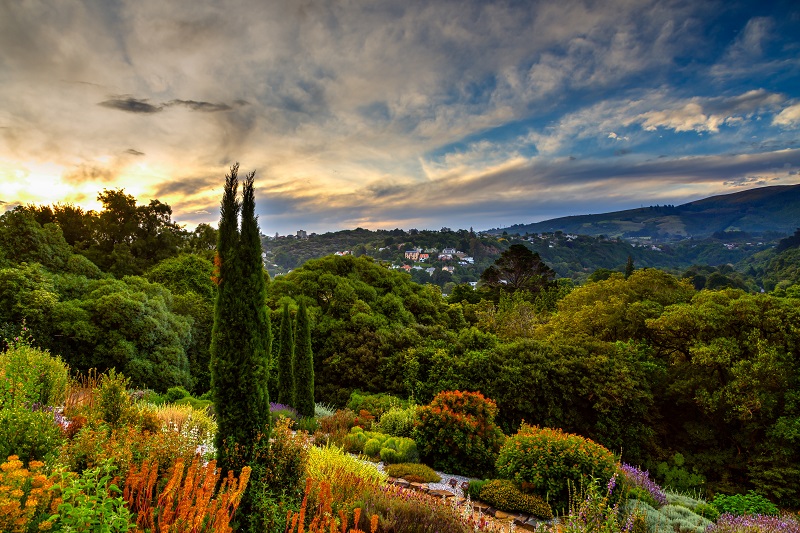 Dunedin is spoilt when it comes to beautiful gardens. We've already mentioned the gardens at Larnach Castle, however the Botanic Gardens are perhaps the jewel in the crown. Dunedin's Botanic Garden was the first in New Zealand and holds the status of six star Garden of International Significance. The garden features a wide range of horticultural and botanical collections including roses, herbaceous and perennial borders, a rock garden, New Zealand native plants and four hectares of Rhododendron Dell. You can easily get lost in the gardens for a few hours and it's a great place to come and unwind. Find out more: http://www.dunedinbotanicgarden.co.nz/
10. World's steepest street
According to the Guinness World Book of Records, Baldwin Street in Dunedin is the world's steepest residential street and is definitely worth a visit. The best time to head to Baldwin Street is in July for the annual Jaffa race which sees 30,000 Cadbury Jaffas rolled down the hill in aid of charity. This event brings out hundreds of people to witness the Jaffas crossing the finish line at the bottom and is a sight to behold.
So, that completes on Dunedin Top Ten. We'd love to know what you think so drop us a line on our Facebook page or in the comments and happy travelling.