When staying at the Greenlane Suites guests enjoy the beautiful leafy suburb surroundings, sheltered from the hustle and bustle of the city.
One of the great things about Greenlane is there are also plenty of attractions and amenities nearby, including some fantastic restaurants covering a variety of international cuisines.
We've put together this list of 5 of the best places to eat in Greenlane, all within 10 minutes walking distance of the Greenlane Suites so you've got a list that's ready to go before your next stay with us!
1. Mamarich Cafe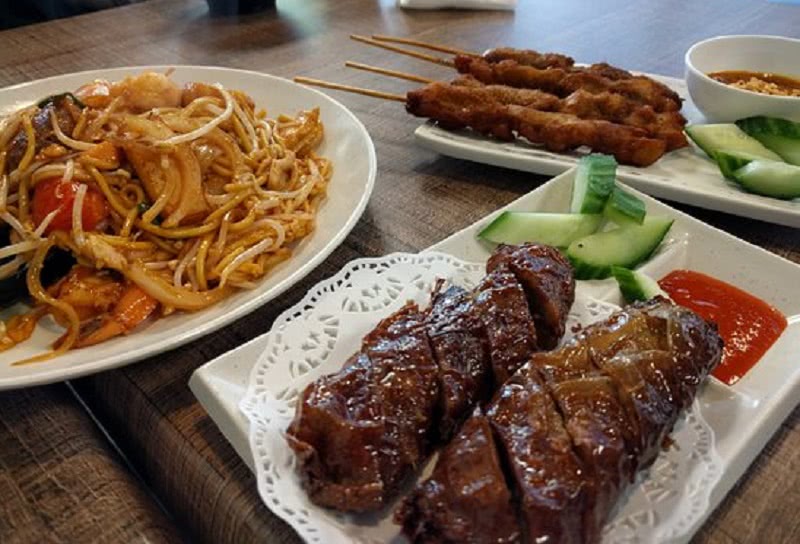 A great Southeast Asian option is Mamarich Cafe, a Malaysian eatery that serves good honest dishes that locals love.
The Mamarich Cafe is hidden away somewhat under an office building and driving by, you'd be forgiven for not knowing it was there. It's a no-frills restaurant. You get given a menu, order at the counter, and the food comes out.
That food however, is fantastic with staples like the laksa, dirty rice and butter fish among the most popular and mouthwatering.
Mamarich Cafe is a 6-minute walk from the Greenlane Suites.
2. De GRAND Thai Restaurant & Bar
Kiwi's love their Thai food and there's no shortage of options to choose from in the City of Sails. Greenlane is no exception and actually has one of the better choices (in our unbiased opinion) with De GRAND Thai Restaurant & Bar, a fine dining option without the price tag of the Auckland CBD.
The presentation and quality of food go far beyond that of casual dining which takes many people by surprise. The restaurant prides itself on well-balanced and healthy food whilst staying true to authentic Thai cooking. Regulars love the Green Thai Curry and Drunken Noodles but you can't really go wrong here in all honesty.
De GRAND Thai Restaurant & Bar is a 7-minute walk from the Greenlane Suites. 
3. Hello Friends + Allies
If you're after a bite to eat in the middle of the day then the uniquely named Hello Friends + Allies cafe is just the right ticket for a tasty and funky experience.
There's a really warm atmosphere here and it's one that stands out as a real community cafe. The coffee is great and if you're a fan of hot cakes, eggs benedict and whipped feta, the menu here will put a smile on your face.
There are plenty of seats to go around but it does get busy, especially on the weekends!
Hello Friends + Allies is a 7-minute walk from the Greenlane Suites.
4. The Fish and Chip Shop
Who doesn't like a good Fish and Chips shop, especially in New Zealand, and the one on Great South Road is exactly that!
You don't just have to take our word about it because these guys have been recognised with 3 awards (two from Metro, one from Viva) because of the quality of their fish and chips.
With fresh fish brought from the market every morning, crispy light batter, steak cut chips and healthy pan-fried options available, you quickly understand why they're rated so highly.
The Fish and Chip Shop is an 8-minute walk from the Greenlane Suites.
5. NOTE Coffee and Eats
For a unique cafe experience, you've got to try NOTE Coffee and Eats, which is the cafe belonging to a music shop and school.
They're an establishment that takes both music and coffee very seriously with trained baristas and instrumental decor furnishings. There's also a food cabinet with wholesome sandwiches and tasty treats to complement the very fine coffee made from Eightthirty's organic sustainably sourced signature blend.
A great place to enjoy a calm and relaxing start to the day or mid-afternoon malaise.
NOTE Coffee and Eats is a 9-minute walk from the Greenlane Suites.
Options aplenty near the Greenlane Suites
As you can see, there are plenty of places to eat in close walking distance to the Greenlane Suites. You may want to travel further afield and with the motorway only minutes away, that's certainly an option, but it's nice to know there are some great local options only a few minutes away.