New Zealand's scenery is some of the most breath-taking in the world, a fact that hasn't been missed by Hollywood's biggest filmmakers. A large number of films have been shot here with Hollywood keen to take advantage of our natural beauty and cinematic surroundings.
If you're a movie-buff, there's nothing more fun than seeing these locations in the flesh, so we've put together a list of 8 must-see movie locations that you can visit on your next trip to New Zealand!
1. Hobbiton (Matamata) – The Lord of the Rings and Hobbit trilogies
The first location and films need no introduction. We're of course talking about Peter Jackson's epic film adaptions of J.R.R. Tolkien's The Lord of the Rings and The Hobbit. Upon completion of the films, the Hobbiton movie set in Matamata was transformed into a visitor's attraction for fans from all around the world to visit and experience the wonders of Middle Earth.
It has since gone on to become one of the most popular tourist destinations in the country with highlights including the Hobbit holes (as you might expect) and the range of Hobbit ales served at The Green Dragon Inn!
Even if you aren't an ardent Lord of the Rings/Hobbit fan it's hard not to be impressed by the imagination and craftsmanship on show. A default inclusion for your itinerary.
The Hobbiton Movie Set is an 80-minute drive from Rotorua.
2. Karekare Beach – The Piano
Karekare Beach was the iconic focal point of one of the most acclaimed films in New Zealand cinema history, The Piano by Jane Campion, which won 3 academy awards and the best picture award at the Cannes Film Festival.
Karekare Beach was the perfect cinematic foil for the film with its long black sand beach, imposing cliffs, native bush surroundings and untamed surf. So stunning is the location, it's also become a popular spot for newlywed couples to take wedding photos. Others like to recreate (or attempt to recreate) the scene of a young Anna Paquin doing cartwheels on the shore.
Karekare Beach is a short 50-minute drive west of Auckland.
3. Cathedral Cove – Prince Caspian: The Chronicles of Narnia
On the East Coast of the Coromandel Peninsula, you'll find Cathedral Cove, known by many as Cair Paravel, the home of the Kings and Queens of Narnia.
When you arrive at Cathedral Cove, it doesn't take you long to figure out why they chose this beach to represent such a majestic location of the famed C.S Lewis book, Prince Caspian. It's a beautiful secluded spot with picturesque golden sands and white cliffs.
It's a great place to relax, soak up the sun and do some kayaking evidently, which has become very popular in and around the shore. Great sunset opportunities here as well to make all your friends on Instagram very jealous indeed.
Cathedral Cove is a 2 ½ hour drive from Auckland.
4. Milford Sound – Alien Covenant
New Zealand's beautiful landscape has also been used to opposite effect as was the case with legendary director Ridley Scott who shot Alien Covenant in Milford Sound.
Scott was drawn to Milford Sound from the memory of a previous visit recalling the tremendous rain and the waterfalls that would then appear from everywhere down the mountainous terrain that surrounds. With its ever-present moody low-lying clouds, it made a perfect off-world backdrop to play out some Alien inspired thrills.
Your experience will no doubt be less horrifying but equally memorable (in a good way) as it's highly regarded as one of the most spectacular spots in the country.
Milford Sound is a 1-hour 45-minute drive from Te Anau in the South Island.
5. Wanaka – A Wrinkle in Time
The recently released sci-fi fantasy blockbuster, A Wrinkle in Time, starring mega-celebrities Oprah Winfrey and Reese Witherspoon, was based and largely shot in Wanaka in New Zealand's South Island.
This fantastical film chose Wanaka for its natural magical scenery which needed to be spectacular to complement the incredible visual effects in the film. Wanaka is perfect for exactly that, especially when you gaze out at the gorgeous Lake Wanaka against the beautiful backdrop of Mount Aspiring National Park.
Incidentally, it also has one of New Zealand's most Instagrammed spots being the Lone Tree of Lake Wanaka.
Wanaka is an hour's drive from Queenstown.
6. Mount Taranaki – The Last Samurai
Our small country got very excited when academy award winning director Ed Zwick brought Tom Cruise to town to film The Last Samurai in the early 2000's, who was back then (and still is today) one of the biggest film stars going around.
Mount Taranaki was chosen for its uncanny resemblance to Mount Fuji in Japan. It's surrounding hills also provided the perfect backdrop for the film's climactic battle scene which involved 500 Japanese extras!
These days, Mount Taranaki gets visitors from everywhere, keen to see it as one of the most symmetrical volcanoes in the world. The volcano and the Egmont National Park have many tracks to enjoy for trampers of all levels.
Mount Taranaki is a 4 ½ hour drive from Rotorua.
7. Wellington – King Kong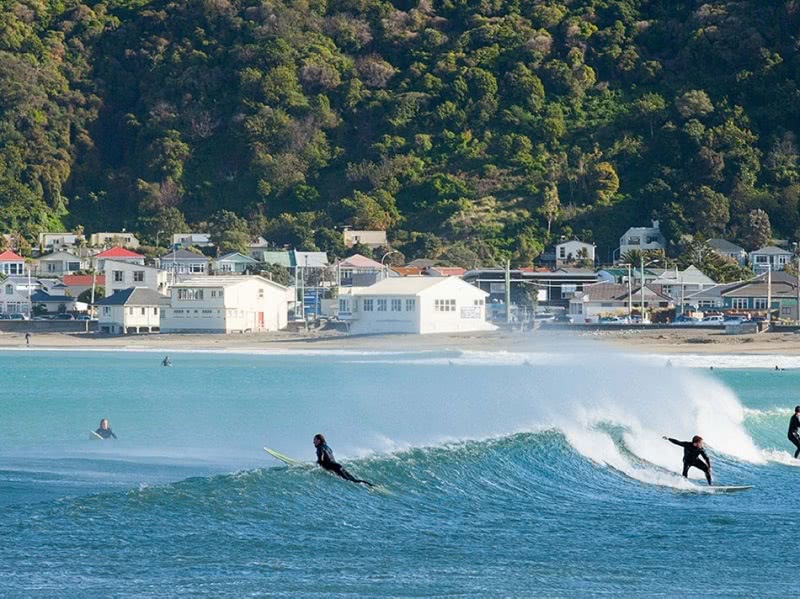 Peter Jackson followed his epic Lord of the Rings trilogy with an equally epic remake of King Kong, the old Hollywood classic he adored as a child. Wellington was the epicentre for the production with scenes filmed all around the city.
The spot we're focussing on for this list, however, is Lyall Bay, which was used as the backdrop for Skull Island, where some amazing set pieces take place in the first half of the film.
Lyall Bay itself is Wellington's most popular surf beach but is also a great place for general beach-going activities like walking, swimming, kayaking and picnics.
If you're going to Wellington, we'd also recommend the Weta Cave tour, which is often led by the artists responsible for all the craft and artistry that goes into the props, costumes and prosthetics at Weta Workshop!
Lyall Bay is a short 15-minute drive from the Wellington CBD.
8. Mission Impossible Fallout – Central Otago
Some 15+ years after The Last Samurai, Tom Cruise returned for a film that's yet to be released (at time of writing)! Mission Impossible 6 Fallout (yes there's been 6 impossible missions) recently wrapped up shooting in the Nevis and Rees valleys in Central Otago.
Without having seen the film, it's impossible to say exactly what scenes take place there, though rumour has it that a prison-like structure was built in an area used to replicate Iraq.
The Mission Impossible films are always a rollicking ride with amazing stunt-work in extraordinary settings and both the Nevis and Rees Valleys are known for the incredible scenery they offer with accessible walking tracks available.
The Nevis Valley tracks are located in the Remarkables Conservation Area, and the Rees-Dart Track is situated in Mount Aspiring National Park.
Both are accessible a few hours' drive from Queenstown and a 4-hour drive from Dunedin.
Conclusion
We hope you've enjoyed this list of must-see movie locations in New Zealand. We've got some great hotels in Auckland, Rotorua, Wellington and Dunedin that you can stay at to visit many of these, which we hope you do because they're great fun!