Rotorua is an awesome hotspot for things to do with a wide range of adventure, cultural and geothermal attractions. Everyone knows it's a tourist destination and many also assume that means paying above and beyond to experience the best things there.
But that isn't the whole truth by any stretch of the imagination. As a matter of fact, there are plenty of free things to do in Rotorua and we've put together a list of 13 of them that you can include for your next trip to the city!
1. Swimming hole at Wai-O-Tapu
Some 500m past the first entrance that leads to Wai-O-Tapu Thermal Wonderland, you'll find a second entrance which takes you down a road to a bridge above a great little swimming hole. The swimming hole exists at a point where two streams meet, one hot and one cold, which makes for a great little pool which is very refreshing indeed.
2. Mountain Biking
You might not know it, but Rotorua is home to some of the best mountain biking trails in the country, over 160km worth in fact, that visitors from all around the country come to enjoy. Of the many tracks to try a good one is the Moerangi Track with beautiful forest scenery all around.
3. Redwoods of Whakarewarewa
One of the top natural attractions of Rotorua are the mighty Redwoods of Whakarewarewa. The 5,000-hectare forest has a good number of walking trails and mountain biking trails with free entry. The Redwoods (Californian Redwoods to be precise) can grow up to 70m in New Zealand and are nothing short of mesmerising.
4. Lake Rotorua
Lake Rotorua is the second largest lake in New Zealand and was formed out of the crater of a volcano over 200,000 years ago. These days its very calm and is a great place to enjoy a stroll with a lakeside trail that lasts around 1.5 hours. You'll see bird and wildlife and a bit of geothermal steam scenery as well.
5. Rotorua Night Market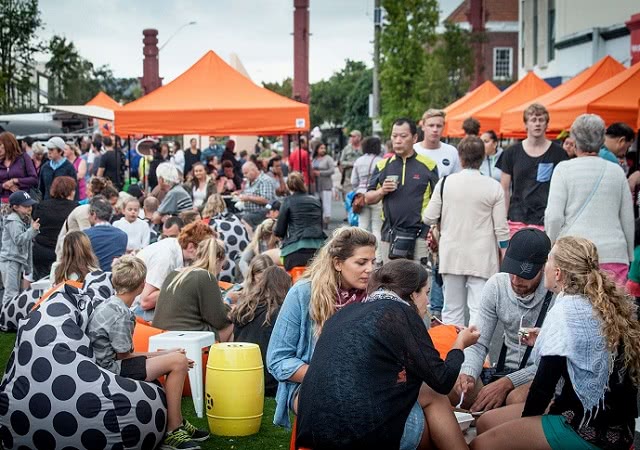 If you happen to be staying in Rotorua on a Thursday night then you have to go to the Rotorua Night Market on Tutanekai Street. It's a great night out with the whole town getting together to enjoy the best in local arts, crafts and food. There's also no shortage of entertainment too with live music and other acts featuring regularly!
6. Saturday Market
If you're not a night owl but don't want to miss out on the market action then you can always go to the Saturday Market in Kuirau Park. Here you'll find an eclectic mix of antiques, arts, crafts, clothes, artisan foods and other fun collectables. A lot of people also go for the freshly made Maori food and bread which always go down well!
7. Ohinemutu Maori Village
Not far from the shores of Lake Rotorua, you'll find the Ohinemutu Maori Village, an experience that offers great insight into the Maori way of life. There are some great historical landmarks like the Tamatekapua Meeting House (with Maori carvings) and the Tudor-style St Faith's Church which was built in 1914.
8. Okere Falls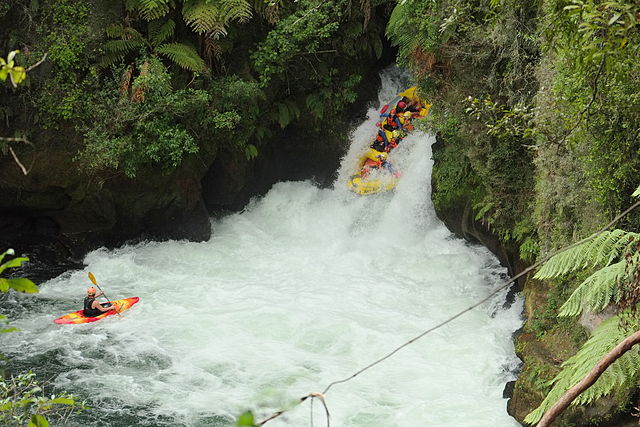 The Okere Falls Scenic Reserve is about 20km from Rotorua and is a great place to go to enjoy a pleasant walking trail which leads to the impressive Okere Falls themselves. It's a beautiful sight and comes with the added bonus of being a place that whitewater rafters come down which is thoroughly entertaining to watch as well.
9. Government Gardens
Another beautiful attraction is the Government Gardens on Hinemaru Street. An important historical site, the land for the gardens were gifted by Maori to be enjoyed by the people of the world. The gardens are huge with over 400,000 plants to take in as well as buildings like the Rotorua Museum, Blue Baths and Gardner's Cottage.
10. Kerosene Creek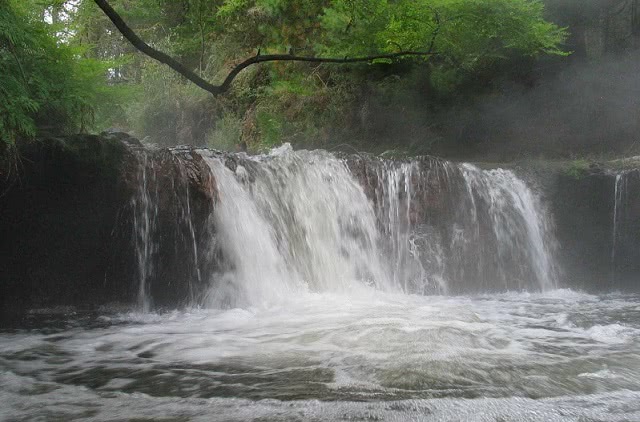 Another great spot to make some time for is the hot pools at Kerosene Creek, a short 30-minute drive from Rotorua. The main waterfall forms a delightful pool which is the most common spot to relax but further upstream there are also a number of smaller jacuzzi-like pools which are also great to enjoy.
11. Kuirau Park
We briefly mentioned Kuirau Park as the place for the Saturday Markets but it's also where you can visit a geothermal public park. The walking tracks you follow take you past some great features like hot springs, mud pools, a crater lake, gardens and more. It's also a good place to enjoy a bbq or picnic on a sunny day.
12. Rainbow Mountain
If you're wanting to get a great view of Rotorua and its surroundings then walking the summit track of Rainbow Mountain is a spectacular way to do it. The 90-minute trek to the top is a good excuse to get some fresh air and stretch the legs. Before all this, you'll be able to also do the short 15-minute walk to the two stunning crater lakes as well!
13. The Blue and Green Lakes
The Blue and Green Lakes are the beautiful jewels of water known as Lake Tikitapu and Lake Rotokakahi which sit side by side and are great places to enjoy beautiful and peaceful walks. Many people walk to the spot in between where you can see them both and appreciate their contrasting colours. You can also enjoy water activities like swimming, boating and jet skiing as well.
Some great activities without breaking the bank!
So there you have it! Some fantastic free things to do in Rotorua for your next visit to keep you busy and entertained. Who knows, you might even want to book yourself in for a few extra days at our CPG hotels in Rotorua