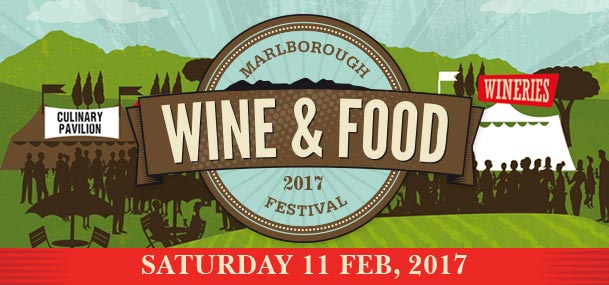 There's no doubt about it. The Marlborough Food and Wine Festival is one of New Zealand's biggest and best festivals and it is coming up in just over one week! This is the one that the wine connoisseurs and foodies mark in their diary as soon as the date is announced and with good reason. Marlborough in arguably New Zealand's most famous wine growing region, producing world award winning wines and the opportunity to sample some of the region's most famous export is too good an opportunity to pass up for many.
The original…and best!
The Marlborough Wine and Food Festival is New Zealand's original and longest running wine festival. Set in what is often regarded as the region's most pictueresque and oldest vineyard at Brancott Estate, the festival attracts visitors from all over New Zealand as well as welcoming international visitors. This year's festival will showcase wines from over 45 local wine companies with all the region's major vineyards attending.
Celebrity Chefs and more
As well as celebrating the best of Marlborough's wine offerings, the Marlborough Wine and Food Festival is also about a celebration of the amazing local food produce. The culinary pavilion will be at the heart of all things foody on the day and as well as being able to sample some delicious food from some of the region's best food producers, there will also be some amazing food demonstrations from celebrity chefs including Annabelle White, Bradley Hornby and Karena and Kasey Bird.
Entertainment
A New Zealand Wine and Food Festival would not be complete without some awesome entertainment and from 10.30 in the morning 'til 6.00 at night festival goers will be treated to some fantastic entertainment across two stages; the main stage and acoustic stage. Entertainment on the main stage includes:
The 808 Quintet
The Steeps
Newtown Rocksteady
Hollie Smith
Supergroove
If you are looking for something a bit more mellow, the acoustic stage has a cracking lineup for you including Nivan Band, Tropic of Booyah, Little T and The 808 Quintet playing an acoustic set on top of their main stage performance.
Where is the Marlborough Wine and Food Festival?
If you have not had the pleasure of visiting the Marlborough wine region, you're in for a treat. The Wine and Food Festival is set in the grounds of the stunning Brancott Vineyard. Marlborough's oldest vineyard has some truly stunning views and is the perfect setting for this awesome festival.
Tips for first time festival goers
If you are attending the Marlborough Wine and Food Festival for the first time, here are a few handy hints to help you make the most of the day and ensure you have a cracking festival experience:
Money
Whilst many festivals have moved to a cashless system, Marlborough is keeping things old school and cash is king! There will be some cash facilities on-site but it is highly recommended that you stock up before you arrive to avoid the queues.
Accommodation
Blenheim is only a short drive from Picton (around 24 mins) and there are special buses running from Picton to the festival at 9.00am, 10.45am and 12.15pm and buses will return between 3.00-7.00pm. The cost is $35 return and bookings are essential so get your accommodation booked at the Picton Yacht Club Hotel and get your return bus sorted too!
What's included?
Included in your entry fee is a full day of entertainment, a souvenir festival glass and programme
What to wear
Blenheim is one of New Zealand's sunniest towns but there is the occasional shower! We recommend checking the weather the day before but in all likelihood you will need to pack a hat, suncream, sunglasses and a bottle of water. Free drinking water is available at various places around the festival site to help keep you hydrated!
Children
Unfortunately it is an adults only event due to licensing and there will be no exceptions so leave the kids at home for the day and enjoy an afternoon in the sun.
To find out more about the Marlborough Wine and Food Festival 2017, head to the official website where you can find out everything you need to know. If you want to follow events on social media, check out the two festival hashtags on Facebook, Instagram and Twitter and don't miss a beat in the lead up to the event.
#fashioninthevines
#marlwinefest
*All images courtesy of Marlborough Wine and Food Festival