There's no better time to get creative in the kitchen! Our talented CPG Chefs have kindly handed over some of their best recipes for you to try at home.

Channel your inner chef! Make one of our recipes below, post a pic on Facebook and tag us @cpghotels to be in to  WIN A $100 ACCOMMODATION VOUCHER!
Spaghetti all'Amatriciana
 (Serves 4)
Who doesn't love cozying up with a steamy bowl of pasta? We have good news for you! Eating healthy carbs like pasta release serotonin – a feel-good chemical that the nervous system uses to send messages to and from the brain. Whip up our easy recipe here for the ultimate comfort dish!
INGREDIENTS 
350-400gm Spaghetti

250gm smoked bacon, diced

2 cans cherry tomatoes, 3 if you like it "extra saucy"

1/4 teaspoon cracked pepper, you can add pepper at the end if you like it extra peppery. 

2 Tbsp chopped parsley, flat leaf if available

6 Tbsp grated parmesan

Olive oil, a glass of wine, good company and blues music in the background
METHOD
Blanch the pasta in abundant salted water for 6-7 minutes

Strain and rinse in cold water to stop further cooking, it will feel hard but it'll soften 

Drizzle olive oil to prevent sticking and set aside, covered

In a skillet, large enough to cook the pasta into it later, gently "sweat" the bacon with a bit of olive oil, which means simmer it slowly with a lid on so that it releases the broth, for 5-7 minutes, it all depends on the bacon

Take lid off, if dry, add a tbsp of water and cover up again, simmer a couple of minutes further

Reduce the broth by half if too liquid

Do not fry the bacon further

Add the cherry tomatoes, the pepper and crank up the heat

Simmer this for 5-7 minute or until the cherry tomatoes start to break

Add the blanched pasta, the parsley and HALF the parmesan, toss it around to coat for a minute or two, add water if it dries too much

Serve and sprinkle the remaining Parmesan on top

Enjoy!
Lemon Cream and Drizzle Cake
This delicious dish has two components to it! If you're a lemon lover then this dessert is for you. Impress your bubble this lockdown and treat them to the ultimate after-dinner treat. This recipe has three easy components to it and will leave you feeling like the next Gordan Ramsey!
Lemon Cream 
INGREDIENTS
600ml cream

⅔ cup sugar

Juice and zest of 2 small lemons
METHOD
Combine cream & sugar in a large pan and bring gently to boil. Turn down the heat and simmer for exactly 3 minutes

(less than 3 minutes and the cream won't set, longer than 3 minutes it can separate).

Remove from the pan from heat and allow the mix to cool slightly before adding the lemon zest and juice.

Leave to infuse for 15-30 minutes, then pass through a fine sieve.

Pour into small ramekins and place in the fridge to set …at least a couple of hours. 
Lemon Drizzle Cake 
INGREDIENTS 
Cake 
225gm unsalted butter

1 cup caster sugar

3 medium sized eggs 

⅔ cup milk 

1 ¾ cups plain flour 

1 ½ tsp baking powder

½ teaspoon of vanilla essence
Lemon Syrup
Juice and zest of 2 lemons

½ cup caster sugar
METHOD 
Cake
Preheat oven to 160 C and line a (30cm*23cm*4cm) baking tin with baking paper.

Place butter and sugar in a food mixer & blend until pale & fluffy. Incorporate eggs, one at a time, scraping down the sides of the bowl if necessary.

Add milk and beat until creamy.

Sift flour & baking powder, combine with lemon zest. Add the creamed mixture while still beating, again scraping down the sides as necessary. 

Pour mix into prepared tin, smoothen the surface.

Bake for 25 mins until the cake is golden on top. Check with a skewer for doneness.
Lemon Syrup 
Combine lemon juice and sugar, stirring well to combine.

Prick the warm cake all over with a skewer.

Spoon the cold syrup over the top

Leave to cool, allowing the juice to sink into the sponge. The surface will have a nice sheen due to the syrup.
Serve lemon cream and cake as a pair. Enjoy!

Cocktails and Mocktail
There's no excuse not to have a fun cocktail (or mocktail) night! We've got three great recipes for some delicious drinks.
Flat White Martini.
INGREDIENTS
60ml Baileys or Irish Cream

30ml Espresso Shot

30ml Vodka.
METHOD
Fill a cocktail shaker halfway with ice

Add all ingredients into the cocktail shaker

Hard shake for around 30seconds until frosted outside.

Strain into a martini glass and garnish with coffee beans and a sprinkle of coco powder.
Hint
If you do not have a cocktail shaker at hand whilst home a screw top thermal coffee cup will do the trick. You can substitute the espresso shot for decaffeinated coffee for the same great taste.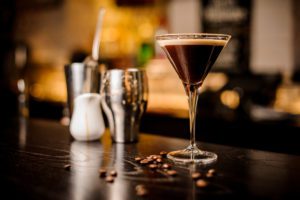 Winter Solstice
INGREDIENTS
30ml Gin

30ml Aperol or Campari

15ml Lime Juice

30ml fresh Grapefruit Juice

Tonic Water (Top up)
METHOD
Fill a large wine glass half with ice

Add all the ingredients except the tonic water and stir

Once chilled, top up with tonic water and garnish with a fresh orange wheel.
Ambrosia Sweet (Mocktail)
INGREDIENTS
45ml fresh Apple Juice

4 mint leaves

3 Lime Wedges

2 teaspoons of brown sugar

Top up with Ginger Ale.
METHOD
Muddle together lime wedges, sugar, mint leaves, and apple juice in a tall glass.

Add ice to the glass then top with ginger ale.

Garnish with a lime wheel.
Hint
 As an alternative for a muddler, you can use the end of a rolling pin.