As we know, Rotorua is New Zealand's geothermal capital – there are loads of things to do and places to visit that involve some sort of geothermal activity – from the stunning Wai-O-Tapu Geothermal Wonderland to the geysers at Te Puia. These will be part of any trip to Rotorua but what about the other things going on in and around the city? Rotorua is also the mountain biking capital of New Zealand with some incredible cycle trails to test even the most hard core downhillers. There are also heaps of great walking tracks, museums, spa facilities, theme parks, rafting and more so the next time you're down in Rotorua, give one or two of these alternative activities a try.
Our top 5 things to do in Rotorua
1.      Mountain Biking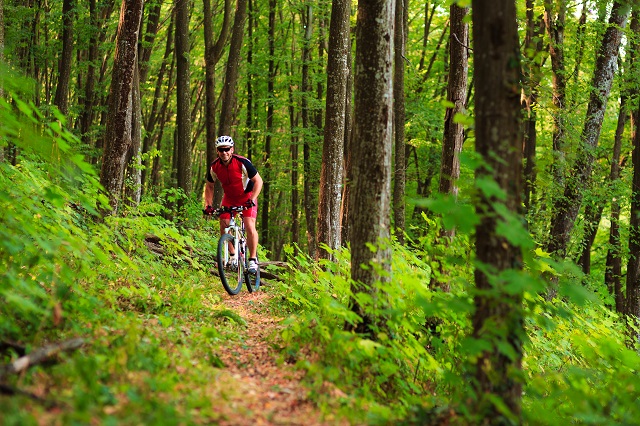 There are lots of different places to head out on your bike but our favourite is the Whakarewarewa Forest which is just a short 5 minute drive out of the city centre. Famous for its magnificent stands of towering Californian Coast Redwoods, Whakarewarewa Forest is home to some of the best mountain biking trails in New Zealand and the best thing is they are free to use. There are hundreds of trails all set out and graded by difficulty so whatever your level, from beginner to pro, there will be something that gets the adrenaline pumping. Then there's the magnificent views from the top, looking out over the city and Lake Rotorua.
Another place worth a mention is the Skyline Gravity Park. The gondola-assisted bike lift will take you up high into some world-class downhill mountain biking terrain and the best bit is you don't even have to do the uphill stuff!
2.      Maori Culture
Rotorua is a city teeming with Maori history and is one of the best places to visit if you want to learn more about the culture. Many of the geothermal activities have a history that is strongly linked with Maori culture, however there are plenty of opportunities to get involved in some non-geothermal Maori activities. One of our favourites is the Tamaki Maori Village – a chance to step back in time and see how a Maori village would have looked before the European settlers arrived. As well as meeting people and chatting to locals, you also get the chance to enjoy a traditional Maori Hangi – food cooked underground using hot stones.
There is also the Buried Village of Te Wairoa. This village was destroyed by the sudden and violent volcanic eruption of Mt Tarawera on the 10 June 1886 and was one of New Zealand's greatest natural disasters. The eruption also destroyed what was often referred to as the eighth wonder of the world – the Pink and White Terraces. After careful redevelopment however, you can now visit the village and see what life would have been like before, during and after the eruption.
3.      Museums and Galleries
Rotorua is not short on museums and galleries from the quirky Mamaku Blue – a place dedicated to the use of blueberries in everything to the Rotorua Museum, our favourite. The Rotorua Museum is a must-see international visitor experience. Centrally located in the iconic Bath House building, the Rotorua Museum can be explored from basement to rooftop with fantastic views of the city and lake.  The museum features a wide and diverse range of exhibits and displays as well as cinema experiences and is a multi-award winning tourist destination.
4.      Theme Parks
If you are looking for something for the whole family or even the big kids in your group, then Rotorua has a whole host of theme parks to get involved with.  Our favourite is Agroventures Adventure Park where you can pick from a wide range of activities including Agrojet – one of New Zealand's fastest jet boats, Rotorua Bungy, a 143ft drop and one of NZ's best value bungy jump experience, Swoop, a 141ft super swing that will plummet you down at over 130kmph or Shweeb, the world's only suspended pod race.
5.      Skyline Luge
We've already mentioned the Skyline Gravity Park where you can take your mountain bike to the top of the gondola and race down some world-class mountain bike trails, however there is more to Skyline than just mountain biking and the luge has to be one of the best activities for the whole family. Part go-cart, part toboggan, the Rotorua luge offers up a great chance to try something pretty unique and exhilarating. With three different trails to choose from, all varying in difficulty whether you're there with the family or with your mates, there's a run to suit your needs.
Whatever you choose to do, Rotorua is a playground for the whole family with plenty to offer all year round. We love it in Rotorua and our two hotels offer up different accommodation options for different budget. Be sure to check out the Lake Rotorua Hotel and the Four Canoes Hotel the next time you're in town.